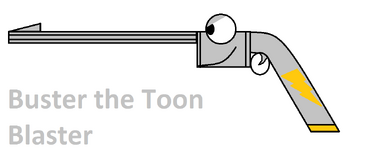 Buster the Toon Blaster is a weapon used by Brandon in his regular toon form with his armor off. Buster's "nasal mucus" (laser beams) is actually green photon blood (not actual blood) which is stored in his magazine.
Personality
Edit
Buster is always eager to assist his master whenever he is needed. He is also known as an out-spoken, gruff, and middle-aged character.
Ad blocker interference detected!
Wikia is a free-to-use site that makes money from advertising. We have a modified experience for viewers using ad blockers

Wikia is not accessible if you've made further modifications. Remove the custom ad blocker rule(s) and the page will load as expected.