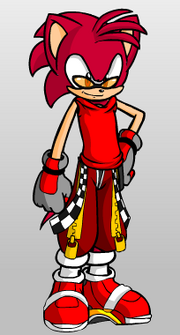 Leon the Hedgehog (a.k.a. Kakure Red) is the main protagonist of Dengeki Sentai Kakureman and the leader of the team with the same name. He's also the oldest member of the team (being 24 years old). He tends to be very hot headed sometimes. He is used to (albeit frustrated by) Andrew's dim-witted-ness.
Ad blocker interference detected!
Wikia is a free-to-use site that makes money from advertising. We have a modified experience for viewers using ad blockers

Wikia is not accessible if you've made further modifications. Remove the custom ad blocker rule(s) and the page will load as expected.